Cryoblasting
Dry ice blasting is a new and very effective method of cleaning dirt off surfaces using a high speed jet of dry ice pellets. ( under the word "ice" means the solid phase of carbon dioxide, CO2 solidifies and, by the way, almost at the temperature of -80 °C.)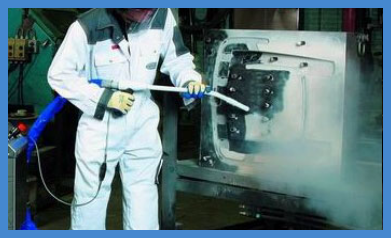 Technology advantages:
• Eco cleaning
(not espulgues chemistry, + there is no need to waste)
• Often there is no need to disassemble the cleaned equipment
(cleaning is possible without disassembling)
- The equipment is ready for use, it is not necessary to dry or cool.
• A high level of quality purification
(penetrating sposobnosti)
• You can even clean electrical equipment.
• When cleaning the surface is not damaged, not deformiruemym and will not rust.
• Dry ice is a great anti-bacterial agent
• High speed cleaning
(2 times faster than traditional cleaning methods + no need to phase in the procedure)
- Dry ice is not toxic.


Technology:
Dry ice comes to the surface with a speed close to the speed of sound and creates ministrave on the surface, thereby discouraging pollution.
The dry ice pellets from the hopper are fed through a spout in the drain pipe. Due to the appearance of the gun reduced pressure, the dry ice pellets is smoothly sucked into the gun, where they get accelerated up to 300 km/h and with a flow of compressed air


Applications:
- flushing of heat exchangers
- cleaning of boilers

• Cleans various materials: metals, concrete, plastic, glass, stone, brick, wood.
• Rcised from oil, grease, dirt, soot, fumes, paint, graffiti, rust resistant deposits, tar.
• Cleaning of food processing equipment from dirt, soot, residues of products. Cleaning of furnaces, conveyor and packing lines, pan washers, forms for baking.
• Cleaning of printing machines, printing rollers from paint, varnish, dirt and adhesive residues.
• Cleaning of hulls, propellers, engine rooms of ships.
• Pre-sale preparation of the equipment.
• Cleaning of wheel pairs cars, engine rooms of locomotives.
• Cleaning of electrical power equipment. Restoration after the fire.
• Cleanup from Gary. Cleaning of premises after the fire.
• Cleaning of building facades. The restoration of buildings and monuments.
• Cleaning of wooden buildings from the paint. Restoration after the fire. Protection from fungi, bacteria.


How we will help You.
Baltic chemical company specializes in the cleaning of boilers. In our work, we have developed our own methods and perfectly use the experience that has been practiced in the industry.

In order to correctly perform the cleaning of the boiler requires a greater amount of theoretical knowledge and experience of skills.

Our company has established itself on the market maintenance equipment as one of the most reliable, work with us and cooperate as major equipment manufacturers and service stations. We are always ready and open to cooperation.