Sandblast cleaning
Sandblast cleaning or waterjet processing – a method of cleaning surfaces, due to the impact of a mixture of water and abrasives for rust, scale, stains and other contaminants (often used for the preparation of metal for painting and applying anti-corrosion compounds, as the preparatory stage).

This method gives the desired roughness of the surface being cleaned, removes rust, scale, paints, varnishes and other coatings. Due to the fact that the water obvolakivaet pellets, the latter is better exposed on the surface. Enhanced separation of impurities from the surface, but she (the surface) is not povrezhdena, as in the contact first enters the water.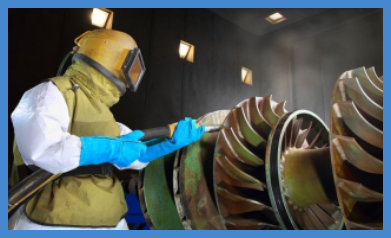 Technology advantages:
- when compared to sand blasting an effective and more gentle cleansing.
- creates the necessary degree of roughness for subsequent processing.
- an environmentally safe method.
- less operating costs.
the technology is environmentally friendly.
( Because of the lack of dust as a result of work. )
- cleans heavily soiled and greasy surfaces.
- have the opportunity to work in urban environments and confined areas, on structures of any height.


Technology:
Under a lot of pressure with the help of special equipment is served emulsion of quartz sand and air. The sand effect on the surface. Gives it a homogeneous structure, a certain roughness (depends on the fraction of quartz sand or the type of abrasive).



Applications:
- flushing of heat exchangers
- cleaning of boilers
- preparation of metal surfaces for the application of coatings;
- Preparation of surfaces for repair works of foundations, roofs and facades;
- Cleaning of stubborn dirt and deposits in the petrochemical industry;
- The preparation of concrete and reinforced concrete structures under waterproofing works, further plastering, painting and gunned.
- Preparation of concrete and reinforced concrete structures under waterproofing, painting, plastering and concrete spraying.
- Conduct inspection of steel structures;


How we will help You.
Baltic chemical company specializes in the cleaning of boilers. In our work, we have developed our own methods and perfectly use the experience that has been practiced in the industry.

In order to correctly perform the cleaning of the boiler requires a greater amount of theoretical knowledge and experience of skills.

Our company has established itself on the market maintenance equipment as one of the most reliable, work with us and cooperate as major equipment manufacturers and service stations. We are always ready and open to cooperation.